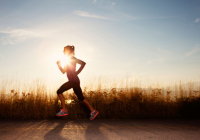 Exercises is an essential part of everyone's life for longitivity and good health without any diseases and problems. doctors also recommend atleast exercise daily for 20-40 minutes daily for productive day and balanced mind.
Exercises comes with lots of benefits such as alert mind throughout the day besides being creative at workplace ,if you tend to form a habit of daily workout without any excusesthen you won't feel tired due to lack of energy in full day which makes you vigilant in all the work you do.
With the fully occupied work schedule, people now days sometimes get less time to go out and perform workout separately, that's when these workout equipment's comes into play as you can make use of them while you are working or just relaxing like watching your favourite show on Netflix while working on your elliptical or spin bike to get fit without spending any extra time.