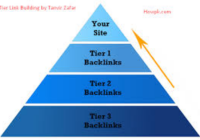 Everyone knows that Backlinks are the backbone of SEO. There are many backlinks building techniques but one is the most favorite for any SEO expert/agency. Yeah, I am talking about Tier Link Building :).
In this article, I will told you all about Tier linking i.e. what it is, Its type, why it is best, how to use it properly to drink full juice :). Link building techniques are very easy to learn but it is very hard to get success. I will share a case study and the perfect method which will rocket boost your linking benefits.
Tiered link building is one of the most effective methods of link building at the moment. But many of us still confused how to use it properly so I decided to break it in steps and make a comprehensive case study for all. You may also like to read How to Get DoFollow Backlinks from Facebook.