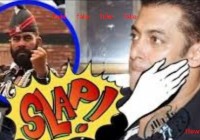 It has been seen for last week that a news spread viral on Social media as well as Rumors website that Sulman Khan slapped By Pak Army. But this is not happened in real life. Some Rumors and spammers spread news in order to get click as well as visitors. They did not think what effect act upon their personalities as well as character.
On confirmation we come to now that this is a fake news and a type of Hoax. Sulman did not got slapped by Army officer. Rumors says that Sulman was Crossing the Pakistani border but he got caught by a Pakistani Soldier and then he got slapped. It is fake and nonsense news.
Salman Khan was arrested and beaten by Pakistani soldier while crossing border without legal documents but the incident never took place in reality. He was just make shooting for his upcoming Movie and this was a scene :). Bellow is the video of the incident. you might also like to read Sulman Khan Arrested in Car Accident case | Bollywood News.