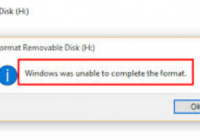 Do you want to format your USB or Memory Card but getting an error "Windows was unable to complete the format"? you no need to take worry anymore. Because here I will teach you how to fix this error without installing any third party application.
Very often you need to format your USB drive or memory card in order to store other important data. But sometimes while formatting you got an error message "Windows can't format USB or Memory Card Drive. Check to see that disk and drive are connected properly, make sure that disk is not read-only, and then try again". If you are facing the same issue then you no need to search for its solution anymore :).
Here I will tell you the step by step instruction to solve this error. Although there are many software available in the market to fix this issue, but I will suggest you, not to use those applications they will harm your volume as well as drives. You may also like to read about 5 Best free USB Encryption Software.